The R&Bass singer/songwriter Primary Element released "Love No Thots" as a single from his upcoming debut Demo entitled "Subliminally Conscious" in fall of 2015 to give fans a taste of what is to come in the future for the artist's sound development. It's a brand new style for Primary, but he integrates the style of music with his subconscious delivery almost seamlessly in the anti-materialistic anthem.
Stream the song on soundcloud via the link below, and download via Itunes today to support club music with a purpose!
Powered by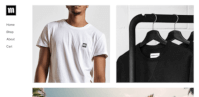 Create your own unique website with customizable templates.