What does TLX Media's Youth Media Program Consist Of?
Our Digital Youth Media Production (D.Y.M.P.) program pairs young aspiring media producers with teaching artists & media professionals in a safe space where students will learn the skills, fundamentals, and techniques necessary to produce their own digital film & photography projects. Students will then apply the knowledge gained to produce professional quality digital media content designed to empower, expand, and influence the minds of other youth! Throughout the course of the program, students will also complete projects and exercises that will further develop their abilities in different aspects of media production (i.e. filming, photography, directing, acting, writing, etc...) Tasks and roles for each project/exercise will be delegated based on personal evaluation in order to build on their natural strengths/weaknesses, enhance collaborative abilities, and foster personal growth/development.
What Are The Benefits of the DYMP Program?
​Students who participate in and complete this program will have the skills, knowledge, and experience necessary to produce digital media (photography & videography) at a professional level. This program will give students the tools and information that they need to begin seeking & creating future employment opportunities for themselves in industries such as photography, film production, entertainment media, journalism, etc...
Our Staff
The DYMP Program staff is made up of experienced media production professionals who strive to put the power of media back into the hands of youth in under served communities. We are dedicated to making sure each program experience is a fun, valuable, and safe opportunity for the growth & development of the minds of our students!
Program Directors:
Malik H. Carter
Uzo Ihekwoaba
DYMP Program Overview
1st Module:
Media Production Fundamentals – The Power of Media – DSLR Operation – Media Production Equipment & Terminology – How Media can be a tool for Social Justice
2nd Module:
Applied Production Basics
– Photography & Composition – Pre-Production Process – Filming Techniques & Procedures – Film Directing
3rd Module:
Post Production Basics – Introduction to Editing – Film Review – Course Reflection and Personal Development Bench-marking
Contact Info:
​For any further requests for details regarding the program please email or call one our program directors via the contact information below.
Malik Carter Phone: (240) 606-5195 Email: TheElementsExchange@gmail.com
Powered by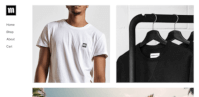 Create your own unique website with customizable templates.